The best external SSD is more than just a backup device. It's a handy way to keep your most important data with you at school or work, on your commute, and of course at home. It allows you to keep your massive games library to hand without taking up precious storage space on your desktop and laptop. And it can of course work as a great backup space should your PC fail.
You want the best external SSD to be speedy and reliable too, if they're going to match the kind of quality we see from the best NVMe SSD inside your machine. If you're looking for a perfect external SDD, USB Type-C drives are top-tier, though overall, the performance of external SSDs has improved a lot in the past years. Some even support 2GB/s of raw bandwidth, so you can transfer huge game files in minutes rather than spending hours staring at that progress bar.
An external SSD is a more affordable way of gaining more storage for Sony PlayStation 5 or Microsoft Xbox Series X gaming consoles too. You can even run games directly off the SSD itself in most cases, but we understand the dubiousness around the idea.
Whatever the size, speed, and price of the external SSD, chances are we've got one that's right for you listed below. Each of these entries we've tested thoroughly, putting them through our gauntlet of benchmarks so they could earn their right to store your precious games.
Best external SSD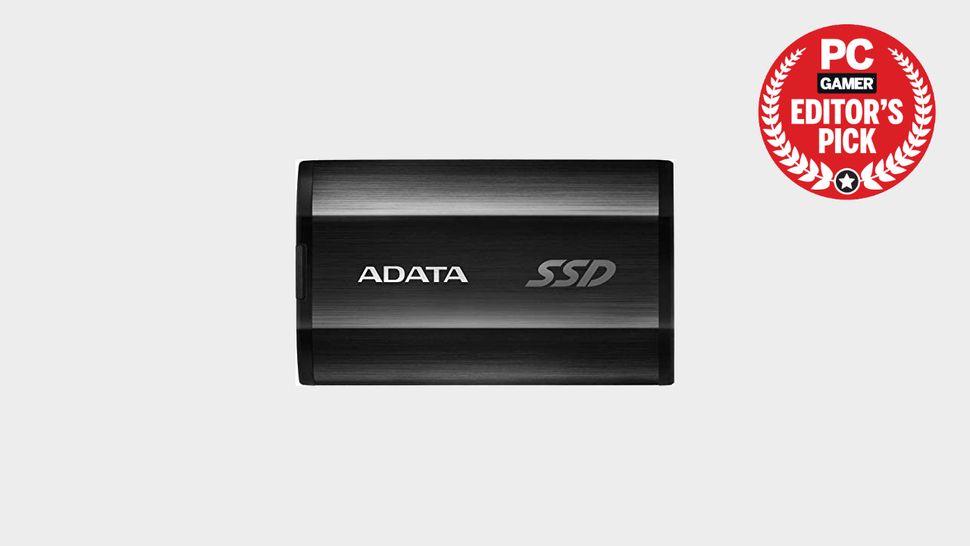 Looking for something with speedy NVMe tech inside? The ADATA SE800 1TB has that. TLC NAND memory? Affirmative. IP rating for increased robustness, including waterproofing? Check. And all for an attractive price compared to its main competitors.
The ADATA SE800 Ultra FAST 1TB really does have quite a bit going for it.
It starts with that M.2 NVMe drive, bridged to a USB interface. In this case, it's a 10Gbps USB 3.2 Gen 2 interface rather than a 20Gbps USB 3.2 Gen 2x2 connection. But this drive is still claimed to be good for 1GB/s data transfers in both directions. Lest you have forgotten, that's around twice as fast as any SATA-based drives, including internal SSDs connected natively via SATA.
That makes it unique among these SSDs, and, what's more, given the competitive pricing, you're getting that IP rating effectively for free. Performance-wise, in testing, the ADATA delivers in the headline 1GB/s spec for sequential transfers while notching up 4K random throughput that's comparable to the competition at 21MB/s for reads and 40MB/s for writes.
That all goes along with a IP68 dust and water proofing, which seems to do the trick in testing.
If you're looking for fast USB-powered external storage for games, this is currently as good as it gets. At least, it is in theory. The WD Black P50 Game Drive we tested here in 1TB format, and available in 500GB and 2TB flavors, is a rare breed of USB Type-C external SSD. That's because it supports the very fastest USB 3.2 Gen 2x2 20Gbps interface, which is why it's capable of read and write speeds up to 2,000MB/s.
As for real-world performance, in terms of peak sequential, the WD Black P50 easily maxed out the 10Gbps connection of our test PC, registering just over 1GB/s in both directions. It's likely capable of the advertised 2GB/s with the right interface, however.
Sustained performance is a little less impressive, with performance dropping to around 375MB/s after around 30GB of data transfer. Random access performance is reasonable rather than spectacular, with 22MB/s reads, and 40MB/s writes for the 4K QD1 metric.
If you want it all, you're going to have to pay for it. So, sometimes it makes sense to compromise. Enter the Crucial X8 2TB USB Type-C SSD. It's not the absolute fastest external SSD on Earth. But it is quick. It's extremely capacious. It's built into a really solid-feeling metal case. And it's attractively priced. In fact, right now, it's available at Best Buy for $239. That's over $150 less than WD's Black P50 Game Drive in 2TB trim.
And so it proves in our testing, with the Crucial X8 good for just under 1GB/s for sequential transfers in both directions. 4K random performance is decent, too, for this class of drive, with reads of 27MB/s and writes just over 40MB/s at QD1.
Given the use of QLC NAND, one big question mark is sustained performance. However, while the Crucial X8 does drop down to 380MB/s with sustained traffic, in our testing, it maintained that level for many tens of GB, which puts it on a par with the more expensive WD drive.
The T7 Shield is Samsung's new portable NVMe SSD that's about as big as a playing card. Being rated to IP65 durability, its classified as dustproof and water resistant, meaning it's aimed at content creators who travel and, for whatever reason, might end up a little wet or with a bit of dirt on their person.
To test it, I left the SSD on my patio in the rain for a couple of hours since absent-mindedly leaving things outside feels more like a real-world situation I'd end up in. I could open, copy, and transfer files with no performance hit when I retrieved the drive. I also dropped the T7 Shield from standing desk height a few times until I was satisfied with the sound of the thud and used the drive again with no issues.
It doesn't feel flimsy when you hold it in your hand or store it in a pocket despite still being pretty light. In fact, the aluminum body covered in a rubber casing has an almost all-weather resistant feel to it.
When it comes to external SSDs, especially NVMe-based ones, speed is the name of the game. And the T7 Shield does not disappoint. It has a sequential read-speed of 1021MB/s and a write-speed of 896MB/s, according to our benchmarking. More practical testing includes transferring nearly 8GBs worth of This Week In PC Gaming clips on and off the drive, which took about 6 seconds each go round.
The T7 Shield is compatible with game consoles, too. Great if you're looking for a nondescript way to expand your storage. I mostly used it to keep the games I use for benchmarking laptops and PCs. But loading games like Horizon Zero Dawn from the SSD didn't present any issues, nor did I see any dips in performance after playing for about an hour.
Compared to other external drives, it's just as fast, if not faster, than some of our favorite external NVMe drives. However, I doubt you'll see anything that matches the durability and build quality of the T7 Shield.
The T7 Shield uses the Samsung Magician app to manage the drive, but all you can do is benchmark the SSD and add a password. All the neat data management features seem to be reserved for Samsung's internal storage drives like the Samsung 980 Pro, as you won't find them here with the T7 Shield.
The drive comes with a USB Type-C to Type-C cable and a USB Type-C to Type-A cable and works on PC, Mac, consoles, and Android devices. The T7 is available in beige, black, and blue and is offered in either 1TB ($160) or 2TB ($290) capacities. The pricing for the 1TB isn't bad, but almost $300 for a 2TB still feels too expensive even if it's priced the same as others on the market.
Best gaming laptops | Best gaming keyboards | Best gaming mouse
Best gaming motherboards | Best graphics cards | Best gaming monitors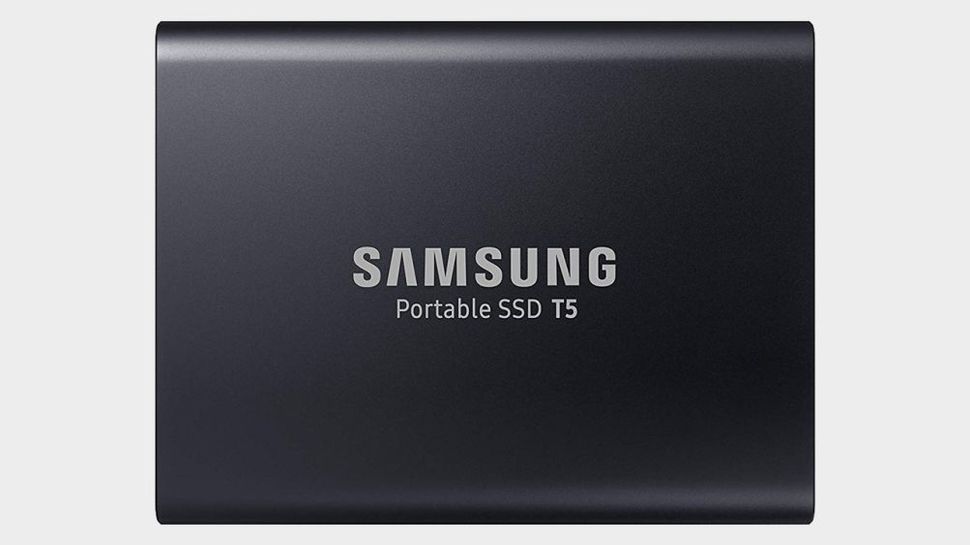 For the power user who wants it all—speed, capacity, and portability—and who is willing to pay a premium for it, Samsung's Portable SSD T5 is one of the slickest solutions out there.
Our testing proved it's not only faster than any USB flash drive available, it also has the capacity of a hard drive, and you can carry it pretty inconspicuously in your pocket, considering it's only 76 x 58 x 10mm.
This spunky little drive shares the same DNA as Samsung's 860 Evo SSD, just in a smaller package.
Speed doesn't come at the expense of storage space either. While it's easy to bump into the storage ceiling of a 32GB, 64GB, or even a 128GB USB flash drive, you'll find there's much more breathing room when dealing with terabytes of space, which is what the T5 offers. Whereas the first generation T1 topped out at 1TB, Samsung doubled the maximum capacity of the T5 to 2TB, a result of upgrading from 32 to 48 stacked layers of V-NAND flash memory cells for a denser configuration.
There's a fine line between compelling and compromised when it comes to external USB Type-C SSDs. For your money, our testing proved the Crucial X6 falls on just the wrong side of that divide, but it's worth a look.
One of the knock-on implications of that architectural difference is that the X8 has a 2GB of DRAM cache whereas the X6 has none at all. The X6 does support features like TRIM passthrough, which isn't always the case on cheaper USB drives and ensures that performance should be sustained in the longer term. It's also very compact for a 2TB drive, measuring 69 x 64 x 11mm.
As for raw performance, peak write speeds are a little disappointing at 378MB/s, as is the 12MB/s 4K QD1 write throughput. It's also worth noting that write performance eventually drops to 180MB/s with sustained throughput. However, in our testing, it never dropped lower than that, even with over 50GB of sustained traffic.
This is not the fastest USB Type-C SSD you can buy for gaming. But then, it's far from the most expensive. Compared, say, to the WD Black P50 Game Drive, the branding of the Seagate Barracuda Fast SSD 1TB looks like a bit of stretch. Rated at 540MB/s for reads and 500MB/s for writes, it's simply nowhere near as quick.
Board walk
Best gaming motherboard: the best boards around
Best AMD motherboard: your new Ryzen's new home
Then again, that fancy WD Drive with its NVMe SSD and USB 3.2 Gen 2x2 20Gbps interface costs roughly 75 percent more for the same 1TB of capacity. Moreover, a great deal of that increased performance isn't available on most PCs and all consoles due to limited interface support.
A great deal that is. But not all. The Seagate Barracuda Fast SSD 1TB is essentially a SATA SSD behind a USB bridge, which means performance is limited to 6Gbps despite the drive's 10Gbps USB 3.2 Gen 2 interface. What's more, in our testing, the Seagate Barracuda Fast SSD 1TB couldn't even deliver its modest claimed performance, clocking just 306MB/s for sequential write performance. It also drops down to just 190MB/s with sustained multi-GB workloads.
Arguably even more problematic is the existence of NVMe-based drives for similar money. The ADATA SE800 Ultra FAST 1TB, for instance, is around twice as quick for peak sequential performance. It's a pity because the Seagate Barracuda Fast SSD looks slick with its sleek enclosure and LED status light. And Seagate's file syncing and backup software is handy. But there's better performance to be had elsewhere.
The best external SSDs FAQ
Should I buy an NMVe or SATA external SSD?
Performance-wise, your choice is between a drive based on the SATA interface with a bridge to USB, or an NVMe interface, again behind a USB bridge. SATA-based USB Type-C drives top out at around 540MB/s peak performance, while the NVMe options up the ante to a maximum of 2GB/s.
At least they do, in theory. To achieve those peak speeds, you'd need a USB 3.2 Gen 2x2 port with 20Gbps capability. That's something that remains relatively rare on PCs and laptops and isn't available on any console, including the new Sony PlayStation 5 and Microsoft Xbox Series X. Instead, you'll find most high-speed USB ports top out at 10Gbps.
Indeed, it's unlikely that USB 3.2 Gen 2x2 will ever become widely used. Instead, USB 4 will likely take over, increasing bandwidth to 40Gbps. But the good news is that USB 4 is backward compatible with USB 3.2 Gen 2x2. So, it will be possible to extract maximum performance from a USB 3.2 Gen 2x2 20Gbps drives in the future using a USB 4 interface.
What type of NAND flash should I go for?
Interface specification isn't the only deciding factor when it comes to performance. Features like controller specification and the type and quality of NAND flash used are also important, though it's not always easy to identify the finer details. Many manufacturers are reluctant to quote full specifications. For instance, drives with four-level QLC NAND memory will tend to have worse underlying performance than those with triple-layer TLC memory.
Form factor and other frills should also be part of your calculations. Some drives are built to be particularly robust; others include extras like hardware encryption, status LEDs, or even fingerprint scanners for added security. Some of those features fairly tangential to the basic remit of providing high-performance storage space for a games library. But you might also be looking for a drive that can serve more than one role.