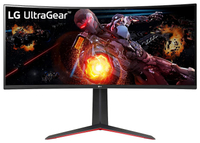 LG UltraGear 34GP63A-B | 34-inch | 160Hz | 3440 x 1440 | VA | $399.99 $249.99 at Amazon (save $150)
At just $250 this LG ultrawide is a genuine bargain. Bu comparison, Alienware's fancy QD-OLED 34-inch panel is $800 even on sale. This LG matches its size, resolution, aspect ratio and refresh rate for less than one third of the price. It's not the brightest gaming monitor ever, but it is a very good deal.
Price check: LG $399.99
What's the best monitor form factor and resolution for PC gaming in 2023? If it's not 1440p and 34-inch ultrawide, then it's certainly very high up the list. Our favorite gaming monitor of the moment is an Alienware 34 OLED that falls precisely into that category.
But you don't have to spend $800 from Dell to tick all those boxes. Not when the LG UltraGear 34GP63A-B has just hit $249 on Amazon. It is, of course, a 34-inch ultrawide model running 3,440 by 1,440 pixels, just like our favorite Alienware. It evens runs at 160Hz, just 5Hz shy of the much more expensive Alienware.
What it isn't, fairly obviously, is an OLED monitor. It's a conventional LCD model with a VA panel. That latter detail is interesting given LG Display's sister company, which actually makes LCD panels, doesn't do VA but instead has carved out a niche specialising in IPS panels. Odds are, then, this is an LG monitor with a non-LG panel. Weird.
Anyway, VA panels tend to be a little slower than IPS. LG rates this one at 1ms MPRT but 5ms for the arguably more relevant GtG metric. If super zippy pixel response is your number one priority, then, the LG UltraGear 34GP63A-B probably isn't the best choice.
That said, it looks like a solid all-round performer. It's rated at 300 nits for brightness, which is tolerable given the very accessible price point, and hits 3,000:1 contrast, which is excellent.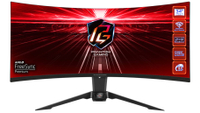 ASRock Phantom Gaming | 34-inch | 165Hz | VA | $379.99 $289.99 at Newegg (save $90)
High refresh 34-inch ultrawide gaming monitors are arguably the sweet spot in terms of size, resolution and ergonomics. So, it's great to see one with decent specs for a reasonable price. As we discovered in our review, this ASRock is a very nice overall monitor for the money.
Indeed, in most regards, it's a bit of a dead ringer for the ASRock Phantom Gaming 34, just $40 cheaper. The one exception is that the ASRock is rated at 550 nits to the LG's 300 nits. That's quite a bit step in brightness and we'd be inclined to stretch to the ASRock for $289 from Newegg if possible.
However, if $250 is your limit or you know you tend to set your screen brightness pretty low, this LG is a whole lot of high-refresh, 1440p gaming goodness for the money. You could spend over three times as much on that Alienware OLED. But as good as the Alienware is, it's not three times the gaming experience.