Gaming laptop deals are out in force this Black Friday deals season, and if you happen to be in the market for a tasty 16-incher with a great portable GPU and a speedy refresh rate to match, I might just have found the thing for you. Both also come in Abyssal Black… so anyone matching my gothic Christmas aesthetic will be pleased.
Whether you're going for an RTX 4070-powered gaming laptop, or pining for that sweet spot RTX 4080, B&H Photo has just dropped a couple of deals on these neat Acer Predator machines we reviewed recently. Granted neither has the Mini-LED panel you'll find Jacob raving about in his Acer Predator Helios 16 review, but that doesn't stop these from being two of the best laptops we've checked out this year.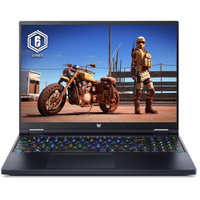 Acer Predator Helios 16 | GeForce RTX 4070 | Core i7 13700HX | 16-inch | 1600p | 240Hz IPS | 16GB DDR5-5600 | 1TB SSD | $1,899.99 $1,399.99 at B&H Photo (save $500)
We're big fans of the latest Acer Predator laptop (read our review of the RTX 4080 version) and this RTX 4070 machine has got a lot about it, too. The Core i7 13700HX CPU is ostensibly an eight-core chip with E-core benefits. That means you get 16 full power processing threads, and a further eight cores to take it up to a total of 24 threads. For a $1,400 laptop that's pretty tasty. It's also sporting some speedy DDR5 memory, a full 1TB SSD and a 500nit IPS display with a 2560 x 1600 native resolution. Sadly, it's not the Mini-LED version in the top Helios 16 models, but it's still a bright, colorful screen.
Price check: Amazon $1,699.99 | Newegg $1,799.99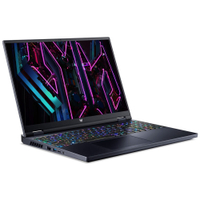 Acer Predator Helios 16 | GeForce RTX 4080 | Core i9 13900HX | 16-inch | 1600p | 240Hz IPS | 32GB DDR5-5600 | 1TB SSD | $2,499.99 $1,999.99 at B&H Photo (save $500)
This is the best Acer gaming laptop we've ever tested (check out our review) and we love this 16-inch form factor. The screen in this $2,000 version doesn't seem to be the same gorgeous Mini-LED panel, but it's still a fast 240Hz IPS display. You also get that RTX 4080 mobile GPU, which is able to keep pace with most RTX 4090 laptops, as well as a surfeit of memory and Intel CPU cores. This is monster of a machine that will deliver on anything you throw at it, from games to serious rendering.
Price check: Newegg $2,399 | Amazon $2,349.99
Right now the RTX 4070 model of the Acer Predator Helios 16 is just $1,399.99—that's $500 off the asking price—while its RTX 4080 sibling rocks the same chonky saving, putting it down to a very palatable $1,999.99 at B&H Photo.
Aside from the GPU, the most important difference to note between is the CPU. The more powerful of the two sports a 24-core 32-thread Core i9 13900HX, which is one of the most impressive processors in the business right about now. Supporting it, 32GB of DDR5 RAM, which is frankly more than any one human is capable of using up, however many Chrome tabs you leave open at a time.
The RTX 4070 version instead packs a 16-core Intel Core i7 13700HX, one of Intel's hybrid chips which tops out at 24 threads. It's not quite serving the same through-the-roof performance as its more expensive counterpart, but there's no doubt it will keep you going through any barrage of particle effects.
Either of these configs is going to deliver great frame rates at their native 1600p resolution. And both are topped with bright, 500 nit IPS panels clocking in at 240Hz, so the screen will have no trouble keeping up with the power under the hood. Either one comes with a sweet storage stash of 1TB, too, so you can fit all the more games on it than many laptops of yesteryear.
They're certainly not ugly laptops either. Nowhere near the edgy Gundam look that something like a Gigabyte Aorus machine would sport. These are stealthily powerful, so no one should be able to tell you're lugging around a gaming laptop unless you let them in on your little Abyssal secret.