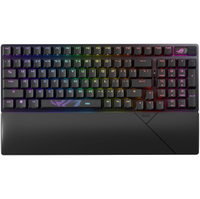 Asus ROG Strix Scope II 96 Wireless | Mechanical | Hot-swappable | RGB lighting | PBT keycaps | $179.99 $144.99 at Amazon (save $35)
This is our favorite gaming keyboard today. An absolute dream to type on, the ROG Strix ticks all the boxes for connectivity, too. It's wireless, either via a dongle or Bluetooth, and of course you can plug it in wired if need be. A clever multi-function media wheel rounds off a keyboard that I'm still using right now, despite having other boards to review.
Price check: Newegg $144.99
You know what makes a gaming keyboard great? Lubed switches. That might not have been what you thought I'd say, but when you get going on a board with such slick switches, it's typing bliss. That's why I love the Asus ROG Strix Scope II 96 Wireless—it offers all the important features for a PC gamer with the added benefit of lubed switches.
The Strix II 96 is also $144.99 over at Amazon for Black Friday right now.
I waxed lyrical about how great a set of finely lubed mechanical switches are in my Asus ROG Strix Scope II 96 Wireless review, but I'll give you the skinny here, too. A drop of lube inside each switch makes for a much smoother actuation and a satisfying clack. Each switch is responsive, smooth, and you can happily glide between them for work involving tons of typing. I'm using this keyboard to type out this story, in fact.
It's rare that I stick with a gaming keyboard after a review is done. Yet the Strix Scope II 96 has stuck around long after hitting publish on that particular story—even displacing the Logitech G915 I've had around for a very long time on my desktop.
Why? The Scope II is simply a great all-rounder. The dual wireless connectivity with dongle and Bluetooth makes for easy alternating between devices without plugging and unplugging any cables or dongles, though how much you need that sort of functionality really depends on your use case. I switch between my work PC and the test bench frequently, so it's a dream for me.
The multi-function wheel is also really simple to use and I actually find myself using it, which is more than I can say for a few other keyboards with similar features. You hit the Asus logo to select between the function set next to the enter key, and then either scroll or press the wheel on the side to control it.
This board doesn't let up on the important things, either. The PBT keycaps are great and should last a while, even for the more heavy-handed among us, and the included wrist rest is an added bonus—though I do wish it was a little higher. The RGB lighting also looks good, which I know matters a lot to some.
The Armoury Crate software isn't my favorite, as I find it a bit messy overall, but I can put up with that for an otherwise excellent keyboard.
With a little extra money off, I'm liking the ROG Strix Scope II 96 Wireless more than I did already. Which is tough because it already won my approval as the best gaming keyboard.
If not this, check out the other great deals we've found over on our Black Friday gaming keyboard deals page.