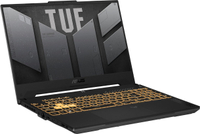 Asus TUF F15 | RTX 4070 | Intel Core i7 12700H | 15-inch | 144Hz | 1080p | 16GB DDR4-3200 | 1TB SSD | $1,399.99 $979.99 at Best Buy (save $420)
The TUF range of laptops from Asus is its more value-oriented range, but they're still solid machines and when they're this price, with this level of spec, they're hard to ignore. This is the cheapest I've seen an RTX 4070 laptop on sale for, and your only real compromise is the last-gen CPU and memory combo... which isn't much of a compromise for a gaming laptop.
Price check: Amazon $1,250.98
We spotted this little gem among gaming laptop deals in the doldrums between October's Prime Day shenanigans and Black Friday, only for it to disappear. Well, it came back for Black Friday itself, and has now been dropped in price again for Cyber Monday.
The Asus TUF F15 is available for just $980 at Best Buy right now. That's a saving of $420, and cheaper than it's ever been even over at Amazon. I thought it was a good price when they knocked $300 off the sticker price, now it's a stellar price for an RTX 4070-toting gaming laptop, and it's not even like it's a low-power budget variant, either.
This is a 140W RTX 4070 GPU in there, which is the same as the chip used in the Razer Blade 14. Now, I'm only equating these two laptops on the point of potential GPU performance, because they are very different machines. For one, the Razer is near three times the price, but is also a slimline little system, and a premium one at that.
When we were putting together our guide on the how to not overpay for a Black Friday gaming laptop deal we were genuinely expecting to only see RTX 4060 machines dropping below the $1,000 mark, with RTX 4070 systems likely to remain around the $1,300 point under discount. This Asus TUF F15, however, has blown all that out of the water.
The Asus TUF range represents a far more value-oriented group of gaming laptops. But they're still providing an excellent baseline spec, and will deliver a notebook capable of offering excellent gaming performance in the latest games as the machine's native 1920 x 1080 resolution. For a little last-gen reference, the 140W RTX 4070 is a little quicker than an RTX 3080 from the Ampere generation.
The chassis is going to be on the chonkier side compared with anything from Razer, or even the ROG stablemates from Asus. But I've used TUF machines, and while the chassis are a little plasticky, we're not talking about the massive budget notebook of old. It's still a nice-looking, well appointed laptop for the money.
Where Asus has compromised is in the last-gen combination of 12th Gen Intel Core i7 12700H CPU and DDR4-3200 memory. But, in reality, neither of those choices are going to materially impact the gaming performance you'll get out of the RTX 4070 with its Ada GPU, DLSS 3.5 upscaling, and the magic of Frame Generation (in the admittedly few games that yet support it).
That Intel chip is still a 14-core, 20-thread processor, and not long ago that would have been considered a workstation spec. You are also getting the full 16GB of DDR4 memory, so capacity isn't an issue. Nor is it on the storage side, either, where the 1TB SSD will be large enough for your games on the go.
So yeah, while it's not some super svelte premium aluminium-clad gaming ultrabook, the Asus TUF F15 is a solid, well-specced, and incredibly well-priced laptop.