Avatar: Frontiers of Pandora is a Far Cry-style spin on the scifi movie franchise that raked in roughly infinite money with its space ballad of blue catfolk. You can be best friends with a pterodactyl! The whale from the second one isn't around, though. Sorry.

Despite a lengthy absence from the public eye and a wandering release date, we've had the chance to put our hands on a Frontiers of Pandora preview, sampling Ubisoft's open-world take on the James Cameron CGI kaleidoscope of fraught space colonialism firsthand. We shot bows of all sizes, gathered gear of increasing score, and yes: We befriended an ikran of our own. We're to share all that information with you.

Here's everything we know about Avatar: Frontiers of Pandora.
Avatar: Frontiers of Pandora release date
What's the Avatar: Frontiers of Pandora release date?
Avatar: Frontiers of Pandora will release on December 7, 2023. The game was initially slated for sometime in 2022, but our suspicions were heightened for an inevitable delay when it entered into a months-long period of radio silence from Ubisoft. That silence was broken with a delay announcement in July 2022, with Ubisoft saying "this additional development time is a reflection of the current ongoing constraints on productions across the industry." After that, Ubisoft briefly shifted its release date back once more with a temporary 2024 release date, but it's since been pulled back into a late-2023 release window.
Avatar: Frontiers of Pandora trailers
Here's the latest Avatar: Frontiers of Pandora gameplay overview
We went a few years without seeing anything from Frontiers of Pandora, but turns out: It's definitely an open world Ubisoft FPS. The gameplay overview from the 2023 Ubisoft Forward showcase gives us the rundown on how the Na'vi simulator will play. It's got hunting. It's got space horses. It's got fruit, and the fruit can be cooked and eaten.

It also has assault rifles. What's a big blue alien supposed to do if a space colonist leaves a gun lying around? Not do first-person shooting with it? Be realistic.
Here's the 2022 Avatar: Frontiers of Pandora reveal trailer
This nearly three-minute long Frontiers of Pandora reveal trailer consists mostly of cinematics, rendered in-engine, with what could be morsels of pre-rendered in-game footage thrown in whenever the camera switches to first person.
The trailer begins with a look at some lush foliage, before a Na'vi tries to approach a mountain banshee. This is followed by more wildlife enjoying a misty morning. At this point I can't help but think about what the satirical Outer Worlds 2 trailer meant when it talked about how a quiet, peaceful setting makes games seem big and important. The scenery does look gorgeous in the cinematic though, and it also features the flying jellyfish creatures everyone liked to paw at when watching Avatar in cinemas.
Avatar: Frontiers of Pandora gameplay info
What do we know about gameplay in Avatar: Frontiers of Pandora?
As you'll read in our hands-on Avatar: Frontiers of Pandora preview: It's a lot like a Far Cry. It's an open world combination of story quests and outpost-clearing with a set of standard Ubisoft gameplay trappings you'd expect to see, all baked into a big, blue Na'vi shell. Here's a rundown of gameplay details we saw:
Human and Na'vi weaponry - In FPS combat against the RDA, you'll use both human weaponry like assault rifles and shotguns, as well as Na'vi weapons like spear-throwers, short bows, and the sniper-like heavy bow. Each weapon has different types of ammo to use.
Na'vi senses and abilities - As a Na'vi, you have abilities that are, technically, superhuman. You can use Na'vi senses—detective vision, basically—to highlight interactable objects in the environment and weak points on RDA enemies. You can charge up a high vertical leap and even double-jump.
Ridable Pandoran creatures - Throughout the story, you'll bond with different Pandoran animals who you'll then be able to call as ridable mounts. In the preview demo, we had access to the ikran: a pterodactyl-like flying creature.
Harvesting, crafting, and cooking - You'll be crafting all your ammo, throwables, and consumable items in Frontiers of Pandora, using materials gathered from plants, scavenged from RDA bases, and harvested from hunted wildlife. Hunting animals will also provide meat, which can be used in cooking for temporary bonuses. Spare resources can be donated in exchange for reputation with the regional Na'vi clans, which can then be spent at vendors for items, equipment, and recipes.
Loot - Similar to Far Cry 6, Frontiers of Pandora is a loot game. You'll get gear from quests and activities, with randomized rarities, attributes, and gear score to compare. Even the Na'vi aren't free from comparing incremental gear upgrades.
A skill tree - Your Na'vi player character has a skill tree, with sections devoted to combat, crafting, hunting, and bonding with your animal companions.
What's the story of Frontiers of Pandora about?
Frontiers of Pandora takes place between the first and second Avatar films. You play as one of a group of Na'vi children who the RDA abducted to forcefully indoctrinate as tools for the colonial effort. After escaping, your character entered a cryo-pod for fifteen years, emerging after the RDA's return to Pandora.

It's worth noting that, by using concepts like forced assimilation and naming the region "the Western Frontier," Frontiers of Pandora is evoking ideas that are, let's say, politically loaded—in the way that a nuclear explosive is loaded with fissile material. I can't say whether it's possible for Ubisoft to delicately evoke the history of settler colonialist violence inflicted on indigenous peoples in North America, but I can say I'd trust myself to do it about as much as I'd trust my ability to sprint unscathed across a field of rakes in my heaviest boots.

Seen as an outsider by the Na'vi clans of the Western Frontier due to your history, you'll work to earn their trust as you aid their resistance efforts against the RDA. Not all the Na'vi you encounter will immediately take up arms alongside you: In our hands-on preview demo, the Aranahe clan in the Kinglor forest was initially split between those who wanted to fight the RDA, and those unwilling to risk the cost of doing so.
What do we know about the open world in Frontiers of Pandora?
Avatar: Frontiers of Pandora is set on a before-unseen continent of Pandora called the The Western Frontier. The Frontier will be split into a few subregions, each with its own biomes and local Na'vi subculture that you'll interact with, assisting in quests and activities as you fight against the RDA. Here are the regions detailed in the gameplay overview:
The Kinglor Forest: A rainforest region with floating mountain islands. Its resident Na'vi clan are weavers, hunters, and most importantly: pterodactyl experts.
The Upper Plains: Grasslands where Na'vi nomads live alongside titanic, horned creatures. This is where you'll learn to ride a space horse.
The Clouded Forest: The gameplay overview didn't give much to go off of here, but it's misty. It's 100% misty, for sure. The Na'vi clan in this region are particularly skilled healers.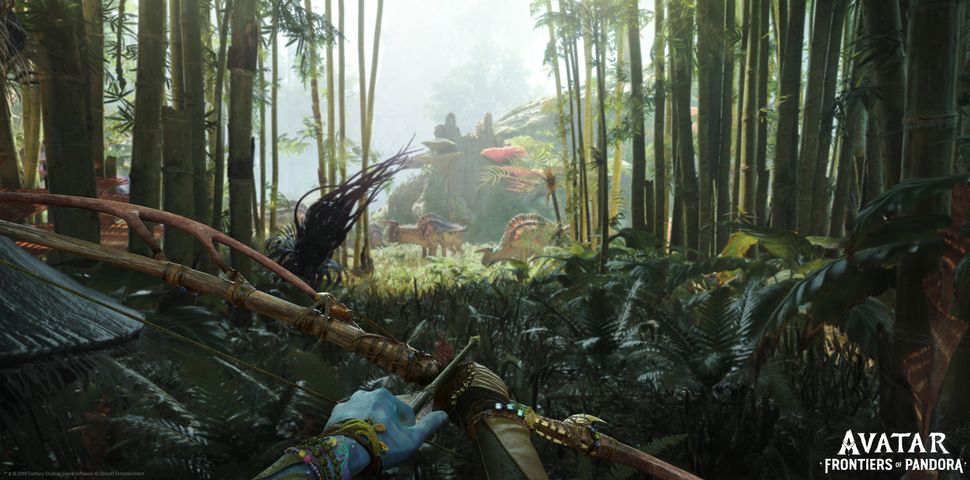 Other Avatar: Frontiers of Pandora info
Avatar: Frontiers of Pandora has a season pass
Nothing evokes a sense of Pandoran majesty like the words "season pass business model." Ubisoft has released details about its post-launch content plans for Frontiers of Pandora, accessible through a season pass that will eventually include two "story packs" releasing in summer and fall of 2024 as well as a cosmetic pack and a "bonus quest." The season pass is included with both the Gold and Ultimate editions of the game.
Who is the Avatar: Frontiers of Pandora developer?
Several studios are working on Avatar: Frontiers of Pandora. The project is helmed by Massive Entertainment, also known as Ubisoft Massive. Ubisoft acquired Massive Entertainment from Activision in 2008. Subsequently, Massive collaborated with Ubisoft Montreal on parts of Far Cry 3, which could work in their favour here. Since 2016, Massive Entertainment is known for the The Division series, but Avatar is handled by a separate team. In addition to Avatar, Massive Entertainment is also working on the upcoming Star Wars Outlaws, a scoundrel-focused open world Star Wars game. The Avatar team first announced the game back in 2017, albeit without any footage whatsoever.
Shortly after the announcement of Frontiers of Pandora, Massive Entertainment studio head David Polfeldt stepped down from the company in order to take a sabbatical. While a large-scale shift in management like that would normally spell bad news for a game, Ubisoft apparently has a replacement for Polfeldt ready.
Massive Entertainment is collaborating on the game with Ubisoft Studios in Germany and China. As is standard for a licensed game, Ubisoft also lists Disney, who holds the rights to the film, as well as Avatar's production company Lightstorm Entertainment as its collaborators.
Here's a quick Avatar refresher for you
If you've forgotten (I don't blame you, it's been a while), Avatar is the world's highest-grossing film of all time, partly because tickets to 3D film showings are more expensive than regular screenings, by the way. Avatar was directed by James Cameron, whose film Titanic held the record for the highest-grossing film worldwide prior to Avatar. It's still the highest-grossing film in several countries, but has been surpassed by Avengers: Endgame in countries like the US and Canada in 2019. Avatar was lauded for its beautiful use of 3D, a lightning-in-a-bottle success that a lot of other movies tried and failed to replicate for the next four years or so.
Avatar's story, on the other hand is the reason that 12 years on, many try to pretend it never existed—it's basically Pocahontas with very tall, blue aliens. An organisation called the Resources Development Administration (RDA) mines the faraway planet of Pandora for a valuable mineral. Turns out Pandora's inhabitants, the Na'vi, would much rather humans stop digging up their planet, but because that would be the reasonable thing to do, the RDA sends an avatar of a former marine to the planet instead. Since Pandora is toxic to humans, they use avatars, essentially copies of themselves in a Navi's body, to be able to access the planet still. The Marine falls in love with a Na'vi, decides the Na'vi people are worth saving, actually, and does that. In the aftermath, humans are banned from Pandora, and only he gets to stay.

A sequel, Avatar: The Way of Water, came out in 2022. It's a lot of the same stuff, but it's in the ocean instead. The RDA doubles down on being bastards by hunting Pandoran whales to make immortality potions from their brains. People liked the VFX enough to make it the third highest-grossing film of all time.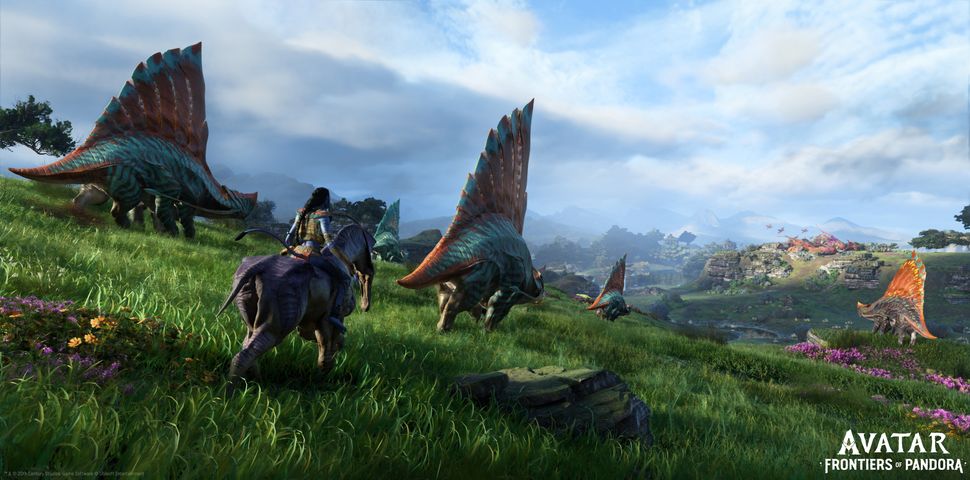 This isn't the first Avatar game, either
Ubisoft has actually made an Avatar game already, back in 2009 when the first film was released. James Cameron's Avatar: The Game was developed by Ubisoft Montreal for consoles only, and functioned as a prequel. It came out ahead of the movie and didn't actually explain Avatar's story, instead assuming you'd definitely go and see it. It even had 3D effects you could enjoy on a compatible 3D screen. From what I gather, this is not a video game classic time forgot. It looked very good for a 2009 game, but other than that it was a third person action adventure with no other notable qualities than the Avatar license.